You have reached safety in Germany. But your life has altered dramatically, and you need to find your feet in new surroundings. This is why we want to give you our comprehensive support.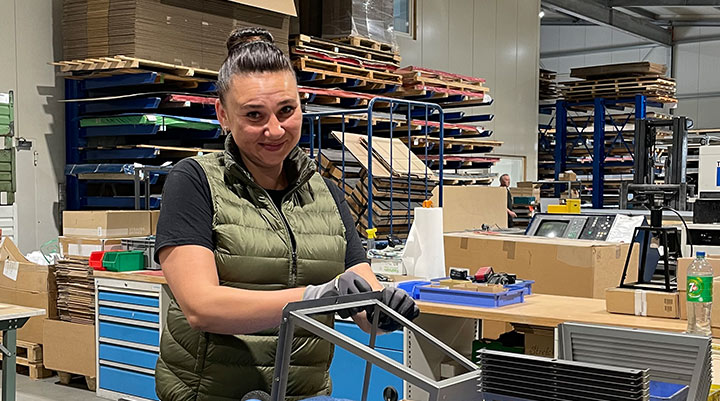 Maryna Levkovych is one of the first people seeking protection to find a job with Hofmann Personal.
A lot of people from Ukraine are seeking protection in Germany and many of them are also looking for a job to secure their livelihood. Like Maryna Levkovych. The lady from Ukraine fled to Germany via Poland with her daughter Sophia (12) and son Timofe (5) along with her aunt, while her husband stayed in Ukraine to defend his country. They now live together in a granny flat belonging to a German family in Mannheim, which has warmly welcomed them.
During a helpers' party, Maryna met Anne Cetin from the Hofmann Personal office in Mannheim. They got to talking about their daughters and when Anne Cetin discovered that Maryna was looking for a job, she pulled out all the stops. Maryna is now working in a metal-working company with people from Greece, Russia, Poland and Germany. She earns 13 Euro an hour and has long-term prospects in a company that is happy to have Maryna as a worker. And in Natalja Belous, Maryna has found a sympathetic trainee who not only speaks her language, but also provides her with valuable tips for her stay in Germany.
Getting in touch with us is very easy
You can contact us very easily and simply. We have prepared various contact options for you.
Of course, our assistance is completely free of charge.
Hofmann Personal documents its commitment against violence with a symbolic act.
We are not immune to the suffering and pain of the Ukrainian population. So, the managers of Hofmann Personal put together a peace initiative that we have recorded in this video. This initiative took place on the occasion of the last meeting at the SpVgg Greuther Fürth stadium. Hofmann Personal would like to thank the management of SpVgg Greuther Fürth for their support.
I. K. Hofmann GmbH was founded 37 years ago by Ingrid Hofmann, who continues to lead the company today. It has over 90 locations throughout Germany and maintains branches and subsidiaries in Austria, Czech Republic, Slovakia, Switzerland, Italy and the US. The group employs around 16,000 personnel worldwide.
Creating a non-violent future together. For everyone.
As representatives of the company, we promise to put our network and our energy to use in helping you. Because for us, there is no alternative to peace. We are inspired by the togetherness in all countries around the globe. It is only in this way that we can change the world of tomorrow for the better. We may not be able to give all those who turn to us the support they deserve. But we promise that we will follow up every enquiry by doing our very best.
Ingrid Hofmann
CEO I. K. Hofmann

Sonja Heinrich
Head of International Markets & Corporate Affairs